CORNELIA…
"Candy Corn" for short…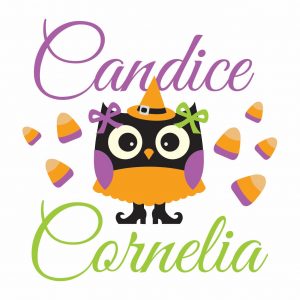 Arrives on the Farm September 28, 2018!  This will be a special day of fun with the witches.
SCHEDULE:  Candice Cornelia joins

Wick'a Dee Witch

 in the Farmland at 6 pm, and at the

Spooky Trick-or-Treat Trail

 (Opens Oct. 8) from DUSK-9:00 pm, Fridays and Saturdays.  Trick-or-Treating at the witches' hut will be your favorite fall activity this year!  They'll both be back at the pavilion later to share some of their witchy moves on the dance floor with you and your kiddos, so grab a corn dog and "stick" around.
HISTORY:  Candice Cornelia the Witch (Candy Corn for short) joined our Farm Witch gaggle in 2015.  When asked why she wanted to be a Farm Witch, she said, "Because I've always loved coming to the Farm during October.  I think Wick'a Dee and the other witches are just adorable and fun additions to the Fall Season at the Staheli Family Farm.  I'd like to mention that Halloween is my favorite holiday, and any chance to dress up and be theatrical is right up my alley . . .  SPOOK ALLEY!"

TALENTS:  Candy Corn is young and energetic.  She has a hard time keeping all her "energy" inside!  She's wiggly, but she has taken the witch's oath to try to hold still long enough for a photo with your little ones.  When asked about her love of children, she said, "I can't get enough of working with kids, and they like me, too (If I do say so myself!  Snort!)."

Candice won the 2017 Sweepstakes and Best of Show at the county fair with her self-portrait, which can be seen hanging in the Old Farmhouse at Staheli Family Farm. (She does weirdly-great commission-art pieces on her days away.)  She also won the Reserve Sweepstakes ribbon with her painting of dear old Wick'a Dee Witch, also hanging in the Farmhouse.  Get tickets to our Witchy Weekend events to view Candice's art gallery. 


Candice also created our new mural, "Life is Better on the Farm".  Have you seen it???

Candy Corn will also be a featured entertainer during our
WITCHY WEEKENDS!  Don't miss the Witches Showcase, Saturday, October 6, 13, & 20 in the pavilion at 4:00 pm.  FREE with paid admission!
Candy Corn is "Scary Cute". Wick'a Dee has some "Trick-or-Treats". Winnie raises "Monsters". Together, they had FUN at Kneaders! Witchy Weekends are coming up. Do you have your pointed hat and broom ready?

Posted by Staheli Family Farm on Wednesday, October 5, 2016
Watch for Candy Corn in the Farmland, and at the Spooky Trick-or-Treat Trail on Mondays, Thursdays, Fridays, and Saturdays, beginning at 6 pm.
She'll share some jokes and get to know your kiddos.
What fun it is to have this darling witch return for her FOURTH season at Staheli Family Farm!