CORNILLIA…
"Candy Corn" for short…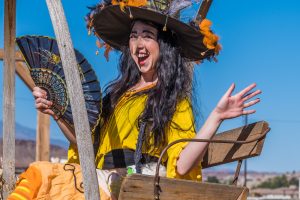 SCHEDULE:  Candice Cornillia shows up in the Farmland at 5:30 pm, and at the

Spooky Trick-or-Treat Trail

from DUSK-9:00 pm.  Trick-or-Treating at the witches' hut will be your favorite fall activity this year!  Be sure to check out "Candy Corn's Pumpkin Patch" filled with Jack-O-Lanterns made from the sweetest fall flavors!  Our witches will be back at the pavilion later to share some of their witchy moves on the dance floor with you and your kiddos, so grab a corn dog and "stick" around.
She actually calls them SCARE-icactures, because Candy Corn sketches YOU as a SCARECROW!  There is no additional cost for this activity with paid admission. She'll even keep your sketch page safe and clean for you in the pavilion while you play and get dirty on the Farm (Just remember to pick up your SCARE-icature page before you leave!).
SCARE-icatures. A Candice Cornillia original. You're gonna love the way you look as a SCARECROW!
HISTORY:

Candice Cornillia is the corniest witch this side of the virgin river! This silly girl always has a joke up her sleeve. She'll enchant you with witch tales of her past, ranging from where witches come from, to stories of her spooky ex-husbands. Candy Corn is sure to make you giggle at least a little! Her favorite farm activities are dancing, yodeling, going down the dirt slide, and teasing the grandpas. You can usually find her under the pavilion drawing spooky caricatures or dancing. Be sure to visit this witch, she can't wait to meet you!

A message from Candice Cornillia: explorer extraordinaire.

"Nyello my children of the candy corn! This year, at Staheli Family Farm, I'll be leading some guided silly safari tours around the farm land! Come along with me and I'll show you all the ins and outs and hidden secrets of the Farm. Will we see aliens, bigfoot, a chicken? Who knows what we'll encounter on these impromptu adventures! You can either join me and my tour group as we go or just ask and I'll start one on the spot and we'll take off! I promise, you won't lose any limbs this time… and if you do, then you can call me a 'lint licker'. Sincerely yours, C.C."

TALENTS:  Candy Corn is young and energetic.  She has a hard time keeping all her "energy" inside!  She's wiggly, but she has taken the witch's oath to try to hold still long enough for a photo with your little ones.  When asked about her love of children, she said, "I can't get enough of working with kids, and they like me, too (If I do say so myself!  Snort!)."

Candice won the 2017 Sweepstakes and Best of Show at the county fair with her self-portrait, which can be seen hanging in the Old Farmhouse at Staheli Family Farm. (She does weirdly-great commission-art pieces on her days away.)  She also won the Reserve Sweepstakes ribbon with her painting of dear old Wick'a Dee Witch, also hanging in the Farmhouse.  Get tickets to our Witchy Weekend events to view Candice's art gallery. 


Candice also created our new mural en plein air
, "Life is Better on the Farm".  Have you seen it???

SOMETHING NEW:  She's been putting her other talents to work this summer, preparing some original SCARECROW sculptures, face-hole photo ops, and fun cartoon signage to be showcased around the Farm.  Be sure to notice her award-winning, comedic artwork and tag her in your photos with them!  We're sure you'll want to follow "Candy Corn" around during your visits to the Farm this fall!

Candy Corn will also be a featured entertainer during our
WITCHY WEEKENDS!  Don't miss the Witches Showcase, some Saturdays in the pavilion.
There is no additional cost for this activity with paid admission.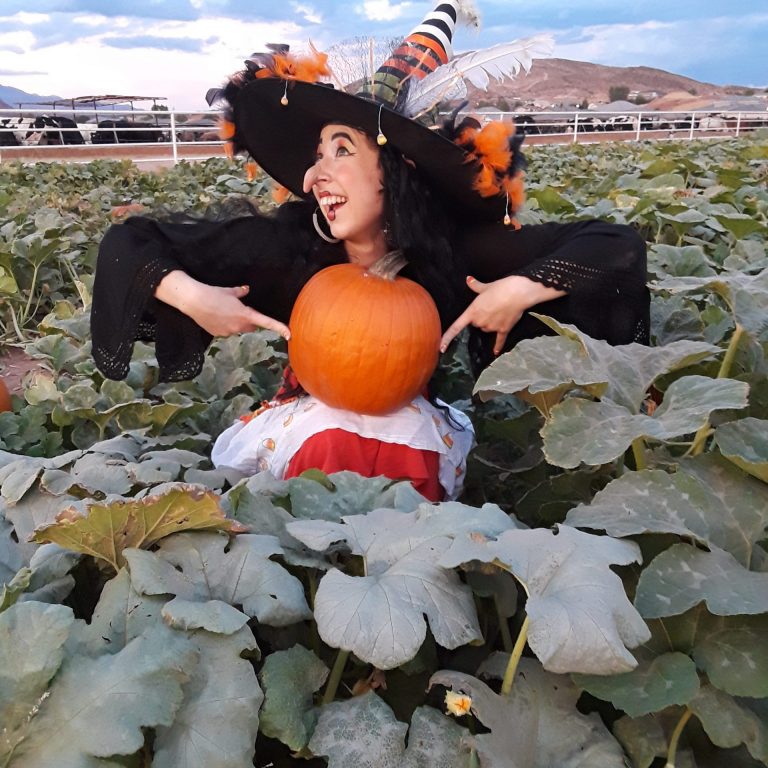 Watch for Candy Corn in the Farmland, and at the Spooky Trick-or-Treat Trail on Mondays, Thursdays, Fridays, and Saturdays, beginning at 5:30 pm.
She'll share some jokes and get to know your kiddos.
What fun it is to have this darling witch return for her SIXTH season at Staheli Family Farm!