Staheli Family Farm offers educational field trips by appointment during school hours.
Farmer Sherrie is passionate about education and real-life experience.  Growing up on the Farm, Sherrie Staheli learned early in life the importance of hard work and consistency in caring for crops and animals.  She grew up with a love for learning and a natural curiosity for life's wonders.
Field Trips include a grade-level appropriate lesson, a portion of the corn maze, visit to our farm animals, time on the jumping pillow and other fun farm activities, and a hayride to the patch (*Fall season only) where each class can pick one pumpkin for their classroom.
The charge for field trips is $3 per student, with no charge for teachers. The trip lasts between 1 ½ and 2 hours. If you plan on staying for over 2 hours the charge will be $5 per person. We strongly discourage bringing younger siblings. Educational materials are available for preparation and follow-up to your trip (You'll receive the password upon scheduling a field trip).

Standard Field Trip Itinerary
• Welcome and Educational Program
• Navigate one phase (half) of The MAiZE.
• Play on Farmland:  Jumping Pillow, Farm Animals, Slides, Corn Box, etc.
• Hayride to the Pumpkin Patch*
• Choose a pumpkin* (one per class) and "See ya next year!"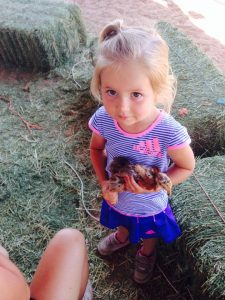 Preschool
Pre-School day activities are less-structured so parents and chaperones can move at their own pace with the younger children.
Field Trips are by RESERVATION only!
Please note that only certain activities are open for use during field trip hours. Concessions and food are not generally available.
Classes should come prepared for an outdoor farm experience by dressing appropriately for the weather and bringing a water bottle. Any students with allergies to an outdoor environment (grass, hay, straw, bees) should be noted and appropriate precautions should be taken.
Hands-on learning experiences are always best when students have been prepared for what they are about to encounter and are able to then discuss what they learned afterward.  We are pleased to offer our "Classroom in the Corn" learning series to make your field trip more exciting and memorable–as well as a better learning experience.  These Teacher Resource Guides are broken into separate grade ranges and each includes activity goals, National Curriculum Standards, preparation required, materials needed, worksheets, and step-by-step instructions.
Seating is available for classes who wish to bring their sack lunches.  Lunch may also be ordered in advance.
Cost for Field Trip without Lunch:
1-2 Hours $3.00/Student
2+ Hours $5.00/Student
Teachers are FREE!!
Homeschool groups are welcome for $5 per person (Smaller groups are allowed to participate in more activities and the field trip is less-structured and time-sensitive).
Fall Field Trips
Come explore in the animal area and learn about a real working farm, where our food comes from, and the life cycle of a pumpkin.
Field Trip Fall Season
9:00am-2:00pm Monday thru Thursday
The average field trip is 2 hours, and times can be adjusted to fit your schedule.
Bring a picnic lunch or make reservations for lunch to be provided.
Spring Field Trips
See all the new signs of spring with baby animals, gardens and more.  Plant your very own garden and experience the life cycle of a plant.
RESERVATIONS REQUIRED
Please fill out the form below to request your field trip at Staheli Family Farm.
** PLEASE NOTE THIS IS A REQUEST ONLY AND IS NOT CONFIRMED UNTIL YOU RECEIVE A CONFIRMATION FROM OUR FARM **
We appreciate parent helpers, but ask that only 2 or 3 come with each class.  PLEASE, NO MINOR CHILDREN OR SIBLINGS with parent chaperones.
Preschools may be grouped together depending on group size.