EGG-STRAVAGANZA
APRIL 13, 9 AM ~ 1 PM
Easter SCAVENGER Hunt
Ages Toddler to 12
Gates open at 9 AM.  NEW!  Online ticketing.  Tickets go on sale March 1st.  Please purchase tickets online; it really helps us prepare our staff, prizes, and concessions.  All activities are subject to "while supplies last", so reserve your spot before you come!

Come "Spring into Easter" at Staheli Family Farm!  We will be holding an Easter SCAVENGER HUNT and old-fashioned games.  Come meet baby animals and play on the playground with the Easter Bunny himself (Little-known fact:  We have the actual real one!  And he's not creepy or boring; he's cuddly and cute)!  Another secret is that Grandpa Ralph plants four-leaf clovers in the field at the Farm, so keep your lucky eyes open while you're here!  Don't forget to bring your baskets for gathering eggs.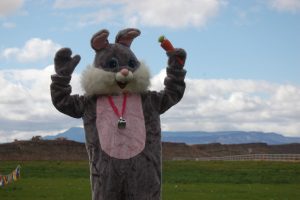 The Easter Bunny had a wild hare, so we've changed things up this year.  
10:00 AM  The ongoing SCAVENGER HUNT begins!  
You'll be given a list of clues to find certain colored eggs at your own pace, which will then be turned in for an Easter goodie bag!  Eggs are empty; all children return their eggs to the basket and receive an Easter goodie bag while supplies last.  Wristbands will be marked as scavenger hunt is completed.  (Please don't collect more eggs than the list calls for.)
11:00 AM —  2ND ANNUAL GRAND EASTER PARADE.  Bring or purchase your Easter bonnets and bunny ears, get your face painted with whiskers, and put on your fluffy costumes for the parade.  How cute!!!  Hop in line and follow the Easter Bunny and Alice in Wonderland down the "bunny trail" (Parent pathway).
Throughout the Event —  CANDY BLASTS.  Listen for announcements and fill your baskets with loads of FREE candy (All ages)!  Farm closes at 1:00 pm.

TAKE A PHOTO WITH THE EASTER BUNNY & ALICE IN WONDERLAND!
9:00 AM – 1:00 PM
The characters may take breaks during this time.  Casual or fancy; it's up to you!