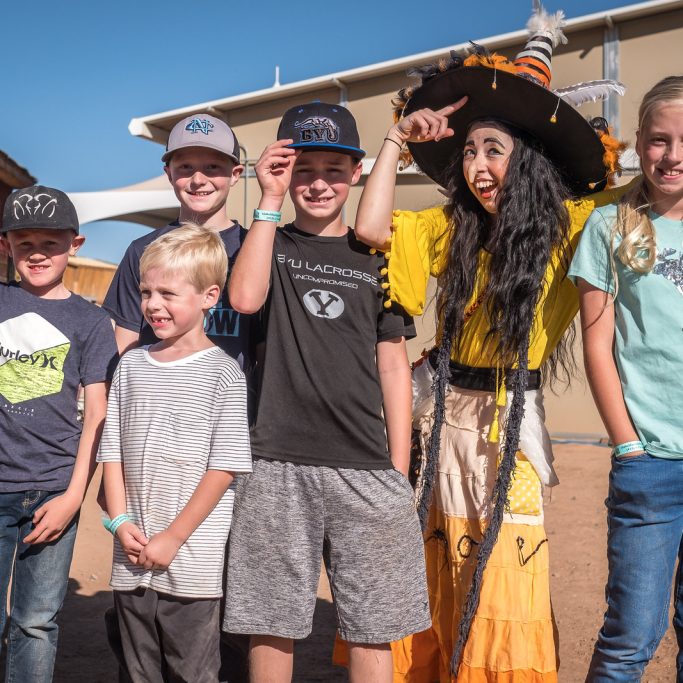 Enjoy your time exploring the Farmland!  We would love to hear about how many of these attractions you fit into your visits to the Farm this season.  Season passes, anyone?
Farmland Attractions Included with Admission:
Ball Zone
Candy Cannon (random dates)
Continuous Music
Corn Slide
Dirt Mountain Slide
Duck Races
Face-hole Photo Ops
Gas Station Wall Photo Op
Giant Chair
Grassy Areas
Hand-Washing Stations
Horse Swing
Jumping Pillow
Kids' Farmhouse
Konk the Crow Game
Petting Zoo
Playground
Redneck Roller
Ring the Bell Hammer
Rope Swing
Shady Pavilion Seating
Straw-Bale Hoist
Teen Zone
Tractor Pull
Weekend Entertainment
and some others!
Special Farmland Attractions

Cow Train Depot (tokens)

Feed the Goats (tokens)

Gemstone Mining at Millcreek Mine (tokens)

Paintball Gallery (tokens)

Pumpkin Patch ($)

Spooky Trick-or-Treat Trail (Now Free)

Vendor food booths ($)

NEW!  Axe Throw ($)
Our Farmland is open during regular hours.  Some Farmland attractions close at 10 pm on weekends.  Tokens are available for purchase in the Ticket Booth, Pitch Fork Smoke House, Pumpkin Patch, and the Food Corral.  Tokened attractions open at 5 pm daily, 1 pm on Saturdays.
We offer so much to do in our Farmland!  If we can find your photos online, they may show up on this page.  Please use HASHTAG "#stahelifamilyfarm" or "Staheli Family Farm" in your posts so we can find and share your photos here, or simply check in at Staheli Family Farm.
Farm Visitors' Photos / Use #stahelifamilyfarm or Staheli Family Farm in your posts.