4:30 ONE DAY ONLY Witches Showcase
2018-10-13 4:30PM PM - 2018-10-13 5:30PM PM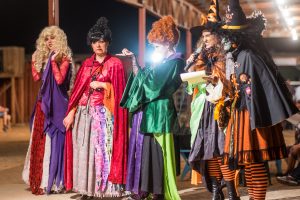 Our professional witches have mysterious surprises for farm visitors in the pavilion this season!  A new gaggle of "Ancients" will be flying in from Atkinville to perform as well–The Sun River Cauldron Dancers!  Join us for some musical mayhem, cackling comedy, and ghoulish GIVEAWAYS!
~4:30 pm~
~~~Saturday, October 13 ONLY~~~
Free with paid admission.
Meet our Witches, HERE.