View Calendar
Countdown to Halloween Week!
COUNTDOWN!
Monday DISCOUNT on Halloween EVE ($7 for Corn Maize and Farmland).
FINAL DAYS DEAL!!!
SCREAMIN' PASSES ARE NOW ONLY $10, MONDAY AND TUESDAY, OCTOBER 30 & 31 (Regular Screamin' Pass is $16)!!!
INCLUDES ONE DAY: One-Time Field of Screams Pass • Corn Maize • Farmland • Petting Zoo • Pumpkin Patch • Hayride • Kids' Play Area • Ball Zone • Jumping Pillow • Dirt Hill • Weekend Entertainment
This is a GREAT DEAL! You can experience all the farm activities (with exceptions of special events and activities requiring tokens). Stroll through the Pumpkin Patch, enjoy the Ball Zone, watch the Pig Races, and so much more.
**Upgrade to VIP SCREAM'N PASS for $7 Extra**
Click the "Online Tickets" button to get more ticket details.  Come celebrate the spookiest days of the year with us at Staheli Family Farm!
 Field of Screams will be open from dark until 10 pm on Halloween Night!
And for the main event this fall season, we're counting down to Halloween! This HALLOWEEN, join us for "Truck"-or-Treat at the Farm, beginning at 5 pm until we run out of candy. Don't be late, or you might just get tricked. FREE with paid admission.   (No professional witches on the Farm this Halloween.)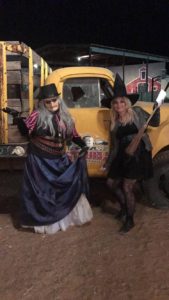 This HALLOWEEN, join us for "Truck"-or-Treat at the Farm, beginning at 5 pm.  Did you catch that, "TRUCK"-or-Treat?  Our Farmers are hilarious!  Some wanted to call it "TRACTOR-Treat".
Spooky Trick-or-Treat Trail, DUSK-9:00 pm. (3 tokens per child/roundtrip, parents walk alongside)  Closed on Tuesdays-Wednesdays.
Farmland, Pumpkin Patch, and Corn Maize open 5-9 pm.
Wick'a Dee Witch entertains from 5:30-9:30 pm on Monday only.  Not on Halloween.
Field of Screams Open every night this week before Halloween!  Dark - 11 pm.   Save $3 off admission to FoS Monday-Tuesday.