Season Tickets Available Online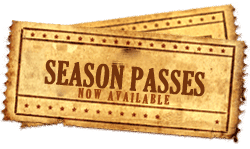 The 2017 Season Tickets are available now!
Includes unlimited multi-day passes to these Farm attractions:
Corn Maize, Farmland, Petting Zoo, Pumpkin Patch, Hayride, Weekend Entertainment, AND a special one-time-per-night Field of Screams PASS!

Season Ticket Price:  $39.99 per person
Prior to the Farm Opening on September 23rd, all Season Tickets must be purchased online HERE (online fee).
No more standing in long lines!  Have you heard???  Click HERE for this exciting announcement!  "Tractor Times" are included with Season Tickets!
~~~~~This changes everything!~~~~~
Related upcoming events
2017-09-25 - 2017-11-13 All day

Tickets could sell out FAST!  Click HERE for yours!

[caption id="attachment_1137" align="alignright" width="300"]

Witches Night Out has prizes for best costume! 18+[/caption] [caption id="attachment_1940" align="alignleft" width="300"]

Waffles & Witches is fun for families.[/caption]

2017-09-25 - 2017-09-28 All day

The weather has cooled off, and the Farmland and Corn Maize are ready to be explored!  Avoid the big crowds by coming early this season!  Our goats have missed you, and the hens are ready to cluck, just for YOU!  (Oops, that's a rooster.  How embarrassing!)

Staheli Family

Farmland

/Corn Maize is open during the following hours:

Monday – Thursday: 5PM – 9PM

(No witches today.)

No Field of Screams tonight.