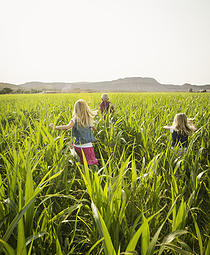 THE CORN MAIZE
All ages will enjoy wandering in our Corn Maize! Take a map (or don't!) and find your way out. Make a game with your group, form teams for a race, or just enjoy getting lost… Any way you go through our maze you're sure to come out with a smile!
For more information click HERE!
THE FIELD OF SCREAMS:
Our most popular attraction.  Make your way through our Field of Screams! With jumps at every turn, you never know who you might run into… or who might run into you! Our Field of Screams is completely separate from our regular corn maze.  Opens September 30, 2017.   For more information on our Field of Screams, click HERE!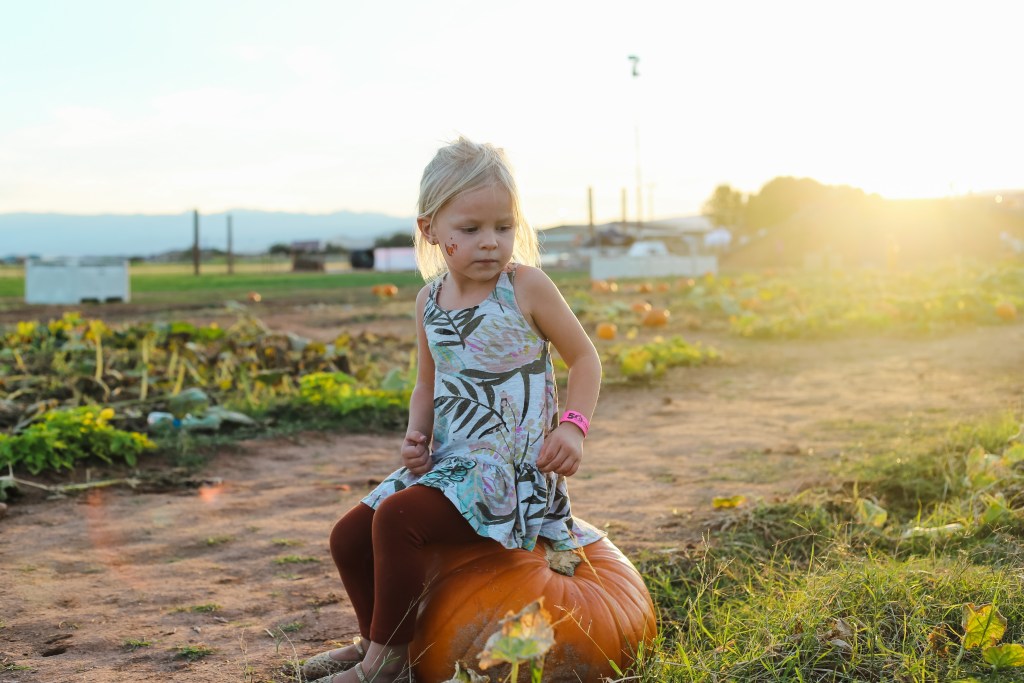 THE PUMPKIN PATCH:
The Pumpkin Patch is re-stocked weekly.  Pick your own pumpkin and take a classic fall photo! Our pumpkins are fresh and plump.  You can purchase the tiny ones for $1 each, and weigh the large ones for .39/pound.    Only those who purchase a wristband will be allowed in the Pumpkin Patch, as it is unique and maintained as one of the attractions here at the Farm.  If all you want is a pumpkin or a photo, the lowest ticket price is the Farmland Admission.  Opens October 2, 2017.
Our patch is open Monday-Thursday 5:00pm-9:00pm and Fridays & Saturdays Noon-9:00pm.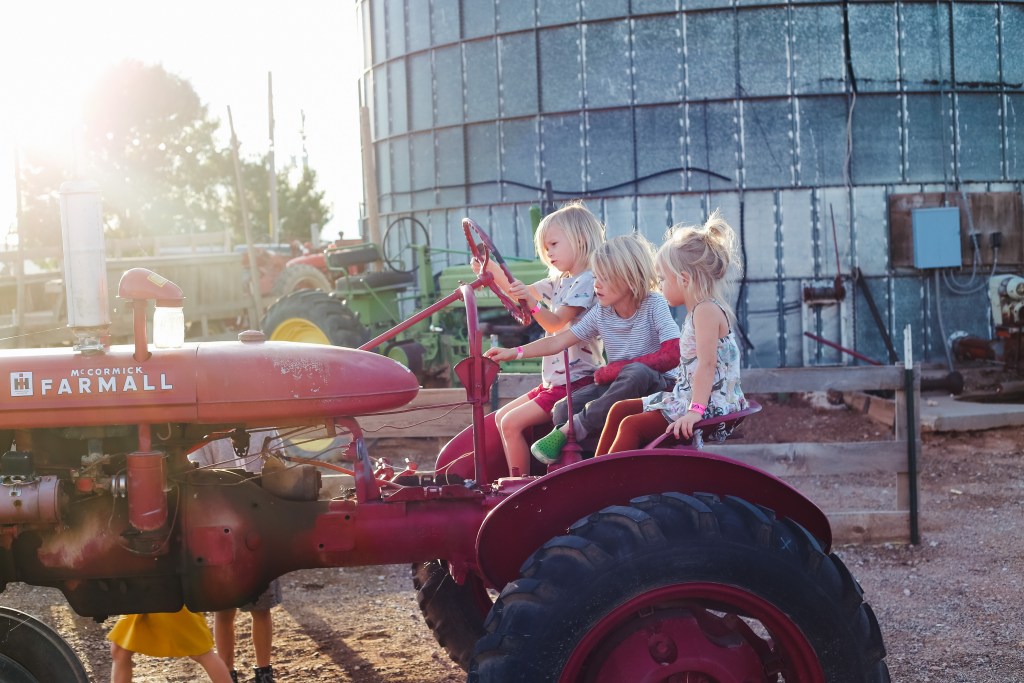 FARMLAND:
Includes; Petting Zoo, Jumping Pillow, Horse Swing, Rope Swing, Corn Slide, Kids Farm House, Duck Races, Teen Zone, Ball Zone, Pirate Ship, Playground, Bee Line (tokens), Paintball Gallery (tokens), Grandma Carma's Creamery (ice cream cones $), Spooky Trick-or-Treat Trail (3 tokens w/paid admission), Funnel Cakes ($), Cow Train Depot (tokens), Redneck Roller, Gemstone Mining (tokens), Lil' Dirt Diggers, Weekend Entertainment, and more!
Our Farmland is open during all regular hours.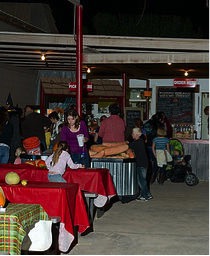 CHUCK WAGON DINER:
Our Diner is filled with yummy food, soft drinks, and treats! Sit down for dinner and enjoy our famous Corn Dogs, Nachos, Corn Bread n' Soup, BBQ Sandwich, and much more! We also can help with your sweet tooth…. Enjoy our secret family-made Carmel Pumpkin Pie, a delicious scone, or pick from a variety of fall treats and candy!  If it seems crowded, there is plenty of overflow seating in the main pavilion.
Our Diner is open during all regular hours.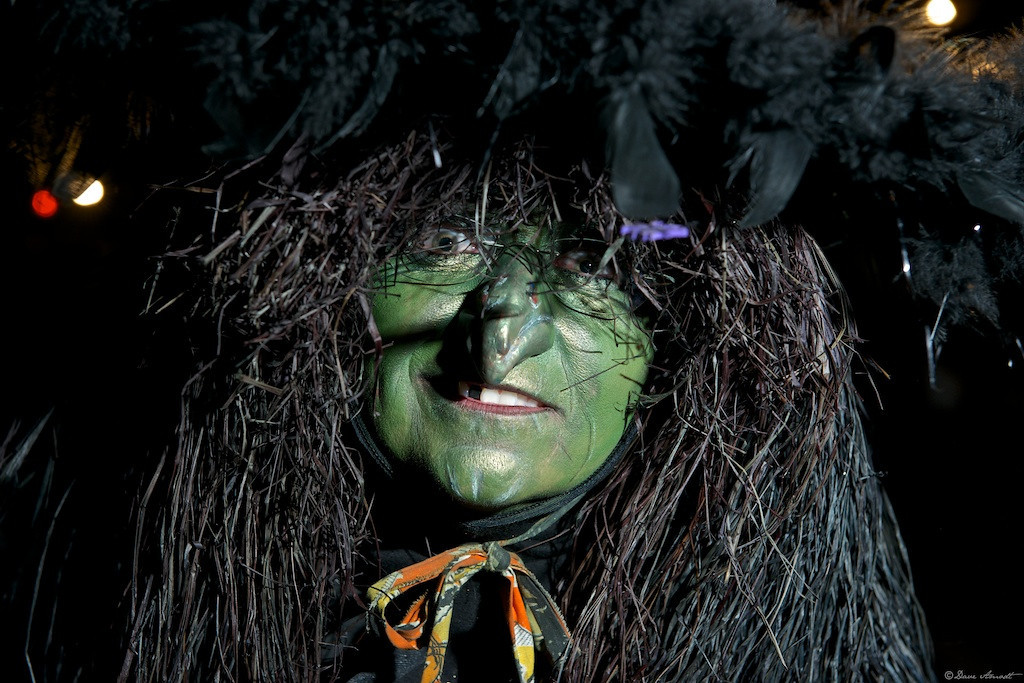 WICK'A DEE WITCH AND FRIENDS:
If you've been to the farm, you have probably met our very own farm witch… Wick'a Dee! Her cackle can be heard for miles!  She's here to entertain the children, but just watch!  She's got jokes, magic, and the moves to match!  To find out when her broom will land at the Farmland and Spooky Trick-or-Treat Trail, visit Wick'a Dee's page, HERE.  Wick'a Dee has some other witchy friends that mingle with guests at the Farm.  
Watch for our newest witch, Daughty, the naughty witch dressed in polka-dots.  She'll be on the farm during our Witchy Weekends.  Learn more, HERE.
The Sanderson Sisters cast some Hocus Pocus spells on occasion.  Find more about them, HERE.
Candice Cornelia ("Candy Corn" for short), joins Wick'a Dee on Monday, Thursday, Friday, and Saturday nights.  Visit Candy Corn's page, HERE.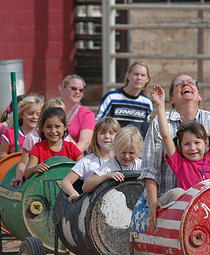 COW TRAIN:
Have you taken a ride in our Cow Train? Those of any age will love zippin' through our pastures in the barrels of fun!  (1 token required, with paid admission)  The Cow Train closes and the token rate changes to 3 tokens/Round Trip w/paid admission at 7:30 pm on M, Th, F, S to accomodate the Spooky Trick-or-Treat Trail riders (All times subject to change).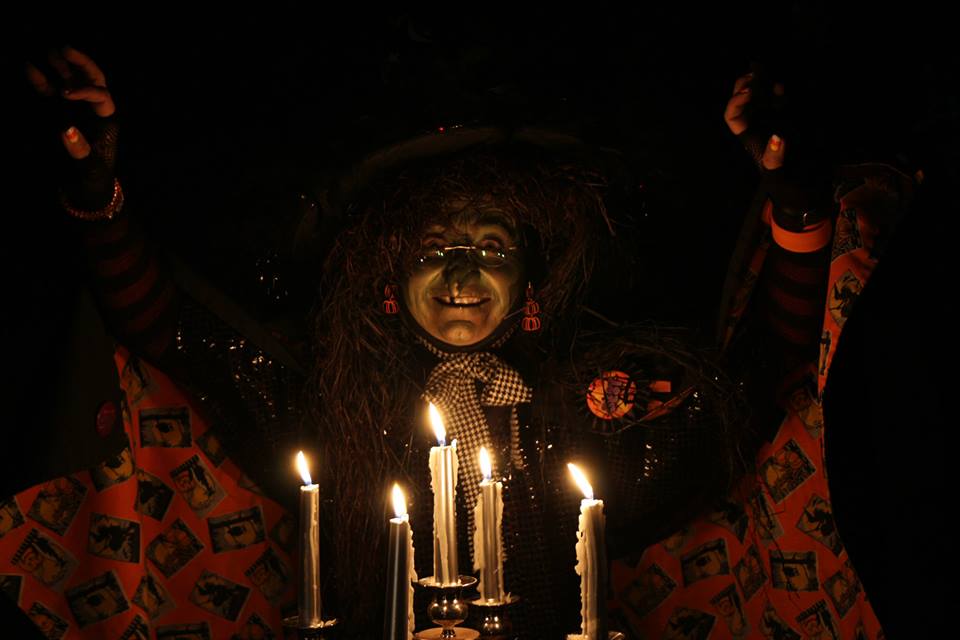 SPOOKY TRICK-OR-TREAT TRAIL:
WOW!  Kids get their own haunted house (Spooky, but not too scary).  Ride the Cow Train to the Spooky Trick-or-Treat Trail (3 Tokens per child/Round Trip w/paid admission).   After the haunted house, visit Wick'a Dee and Candy Corn in the Candle Cottage for some wacky trick-or-treating the witchy way!  (No witches on Oct. 13 or 20, because of Witches Night Out @ Staheli Family Farm).  THIS ATTRACTION OPENS OCTOBER 5, 2017.  For more information, click HERE.
DUSK – 9:00 pm, Monday, Thursday, Friday, Saturday only.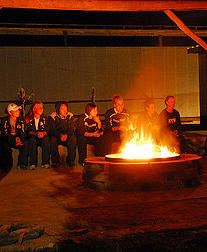 CAMPFIRE & S'MORES:
Did you know you can rent one of our campfires for your family or group?  We even include S'mores for an additional cost. Click HERE to reserve your time slot.  No refunds for no shows.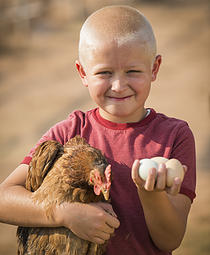 PETTING ZOO:
We sure love our animals! Our pen has goats, sheep, pigs, and many others.  Look around and visit our llamas, turkeys, hens, donkeys, horses, cows, bunnies, and more!  We have convenient hand-washing stations and hand sanitizer, as well. Purchase feed for all the animals.
Open during regular Farm hours.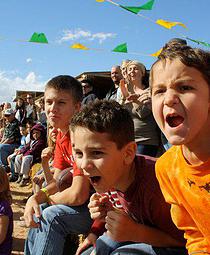 PIG RACES:
Our pig races are just like the Kentucky Derby… on a much smaller scale! Come see our pigs jump through obstacles, and cheer for your favorite snortin' friend!   Our Farm Witches like to lurk around during the Pig Races, casting spells on "witchever" pig they want to win!
Monday 7:00pm, Thursday/Friday 7:00pm, and Saturday 1:00pm, 3:00pm, and 7:00pm.  Times subject to change.