Staheli Family Farm is Please to bring You the Utah Live Concert Series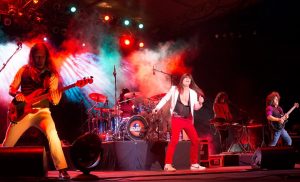 America's Greatest Tribute Bands Concert Series features 10 mind blowing concerts at Staheli Farms in Washington and 4 concerts at the Cross Hollows Event Center in Cedar City.
You may have seen these bands on AXS TV's, World's Greatest Tribute Bands. They replicate the look, sound and feel of the original super groups and have been endorsed by them. These veteran musicians have developed an amazing on-stage chemistry and pride themselves on giving their audience an incredible high-energy, qualitative stage show from start to finish. You will leave these concerts believing you just saw and heard the real thing!
BUY TICKETS
Or Get Tickets at the Gate
The Show Schedule
Hollywood U2
U2 Tribute
Saturday, March 26
Double Vision
Foreigner Tribute
Saturday, April 16
Journey Unauthorized
Journey Tribute
Friday, April 22
Rockin' The Paradise
Styx Tribute
Saturday, April 30
The Long Run
Eagles Tribute
Thursday, May 5
Bruce in the USA
Bruce Springsteen Tribute
Thursday, May 12
Crimes of Passion
Pat Benatar Tribute
Saturday, May 28
Aeromyth
Aerosmith Tribute
Saturday, June 4
Wanted
Bon Jovi Tribute
Saturday, June 11
Don't Look Back
Boston Tribute
Saturday, June 18