Hard Work. Respect. Love. The Farm Life!
Welcome to Staheli Family Farm!  The Farm isn't just a place where cows live or simply a place where food grows, it's a place where real life happens.  It's what our family has done for six generations.  Take some time to explore our website; you'll soon want to spend time at our farm and explore the real thing.
Calendar hints:  Change year with center arrows <2019>. Change month with side arrows OCTOBER>.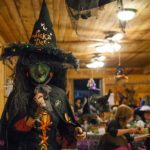 Noon-11 Farmland & Corn Maize
8-11 Staheli Family Farm Dance Night!  Karaoke at 8 with our Farm Witches in the pavilion.
DARK-11 Field of Screams!
6-11 ZOMBIE RAMPAGE
$20 online/$25 at the gate.
https://stahelifamilyfarm.com/event/monday-9-23-2-2-2-2-3-2/
All dates/times are subject to change.