Fundraiser for Braden Burke
2017-10-07 9:30 PM - 2017-10-07 11:00 PM
Two years ago, Braden Burke was diagnosed with stage 2C melanoma. Two operations, including removal of lymph nodes put the cancer in remission. Four weeks ago, circumstances changed. Tumors are appearing and growing very aggressively. The cancer has spread to his lungs and brain. The diagnosis is now stage 4 metastatic melanoma. Braden is unbelievably courageous and a fighter. His attitude is much to be admired. He has started targeted chemotherapy while continuing to fulfill his duties with the Forest Service as long as he is able and to live life to the fullest. He knows he is in for a fight to beat this cancer. We as his family and friends are striving every day to remain positive despite the mounting pressures from every angle. Your generosity and support to help Braden win this fight are very much appreciated.
Braden Burke is a fun loving, caring, and generous young man. He is loved by all that know him and is a friend to all. His countless friends and family members admire him and are grateful for what he adds to their life. Braden is passionate about the outdoors and spends most of his spare time hunting, fishing, and being on "the mountain". He is pursuing a degree in Natural Resources, plans to be enrolled at Snow College in January and would like to finish his studies at Utah State University. This summer he has dedicated his time and efforts to the Forest Service fighting wildfires.
Visit Braden Burke's Go Fund Me page, HERE.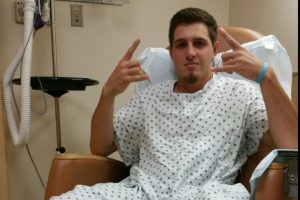 Related upcoming events
2017-10-26 All day

2017-10-30 All day

COUNTDOWN!

Monday DISCOUNT on Halloween EVE ($7 for Corn Maize and Farmland).

The Field of Screams DISCOUNT on Halloween!  $3 off admission.  Field of Screams will be open from dark until 10 pm on Halloween Night!

And for the main event this fall season, we're counting down to Halloween! This HALLOWEEN, join us for "Truck"-or-Treat at the Farm, beginning at 5 pm until we run out of candy. Don't be late, or you might just get tricked. FREE with paid admission.   (No professional witches on the Farm this Halloween.)  

This HALLOWEEN, join us for "Truck"-or-Treat at the Farm, beginning at 5 pm.  Did you catch that, "TRUCK"-or-Treat?  Our Farmers are hilarious!  Some wanted to call it "TRACTOR-Treat".

Spooky Trick-or-Treat Trail

, DUSK-9:00 pm. (3 tokens per child/roundtrip, parents walk alongside)  Closed on Tuesdays-Wednesdays.

Farmland, Pumpkin Patch

, and

Corn Maize

open 5-9 pm. Wick'a Dee Witch entertains from 5:30-9:30 pm on Monday only.  Not on Halloween.

Field of Screams

 Open every night this week before Halloween!  Dark - 11 pm.   Save $3 off admission to FoS Monday-Tuesday.