Come celebrate this unlucky day at the Farm.  The events are suspiciously being kept under wraps, but you can be sure that things are going to get freaky at the Farm!  The goats will be on the roof, and the zombies will be feeling their oats tonight, for sure.  Maybe you'll fall into the silage pit, or you'll get pulled-over on the way, or you'll fall in love with the wrong farmer!  It does not look good, but we invite all brave souls to don their VIP wristbands and jump in line for Friday the 13th at SFF!  DJ Farm Night Dance from 8-11 pm.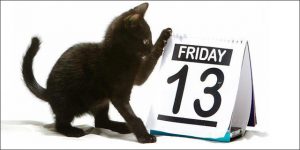 Here's a little history for ya…
We all know Friday the 13th is unlucky, and any bad things that happen today should naturally be blamed on that. There's even a term for fearing Friday the 13th – friggatriskaidekaphobia.
But, it wasn't always considered unlucky. It was only in the 19th century that Friday the 13th became a "thing" that people spoke about. However, the roots of the superstition go further back. Some hold that 12 is a complete number – 12 signs of the Zodiac, 12 tribes of Israel, etc. – so 13, one over, is unlucky.
Some even think that if 13 people sit down to dinner, one will surely die, which stems from the Last Supper. It doesn't help that Jesus was crucified on a Friday, either.
Sometimes Friday the 13th even has a full moon (spooky), which is pretty rare. It won't happen again until 2049.
Source:  Friday the 13th
Related upcoming events
2017-10-24 - 2017-10-25 All day

Tuesdays and Wednesdays are great for parties, youth groups, families, and dates.

Field of Screams DISCOUNT DAYS Tuesday and Wednesday this week before Halloween, get in for $3 off admission (So, it's only $10 for our biggest attraction!).

Have you tried our soft serve ice cream and freshly baked cookies warm from the oven for only $1?  Kettle corn?  Chuck Wagon Diner?  The food is fresh and delicious!

Groups can rent our fire rings and make S'mores together.

Farmland, Pumpkin Patch,

and

Corn Maize

open 5-9 pm.

Field of Screams

 Open Oct 24th thru Halloween!  Dark - 10 or 11 pm. (No witches today.  No Spooky Trail today.)

Click the link for discounted group rates, or go to Groups & Parties on the Home Page.