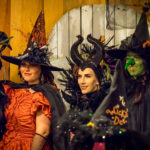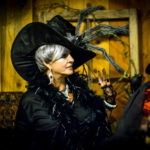 9th Annual Witches Night Out
Two dates:
Thursday, October 12
Thursday, October 19, 2017
7 PM  **Reservations Required**
BUY TICKETS TO WITCHES NIGHT OUT
Ladies, this is the pre-Halloween bash you've dreamed about!  Entice all your unsuspecting "ghoul-friends" to join you for an evening of fantasy, decadence, and entertainment.  Come spend a spook-tacular "Night on the Farm" together.  The spell has been cast on the dazzlingly decorated Farmhouse.  Enjoy live entertainment, great food, contests, and all the mischief and mayhem that can only happen on just such a night!  Sisters, fire up your brooms and fly into Staheli Family Farm for a wicked-good time!
(Vegas Witches, BEWARE, and don't say we didn't WARN YOU!!!  To be here on time, leave Vegas by 4, unless Broomhilda is driving; in that case, leave by 3.  The reason for this warning is that we are in the Mountain Time Zone, and Nevada is in the Pacific TZ.  Arizona might be different, too.)
---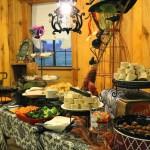 Ghoulish Goodies
Ghoulish Goodies~ Ready to devour the hors d'oeuvres, Witches?  Our spread has something even the undead will love!  Our caterers will do their magic to create hauntingly tasty selections for your tongues to enjoy!  Choices "may" include:

Ghoulash                   Stir-fright Rice                    Rest-in Peas

Ghostess Cupcakes            Newts' tongues                 HorrOreos

Baked Zom-beans               Squeal Parmesan               Tomb-ato Bisque

Scorned Beef               Black Catserole                T-bone Stake

---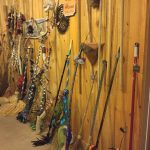 Best Broom Contest
Best Broom Contest~ Back, by popular, demanding witches!  Let this be your year to take the SWEEPstakes!  Let your powers loose when decorating your broom. The other witches will cast their spells/votes to bring forth the winning broomstick. Voting takes place at the beginning of the evening.  You'll need a broom later in the evening, so you may as well enter the contest.

---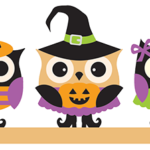 Entertainment
Entertainment~  Hold on to your belly buttons, witches, because the hypnotist has a fetish for them!  That's right, the entertainment this year includes stage hypnosis that will have you in a trance!  Volunteers can join the master as he uses hypnotic phenomena and instant induction to bring out the subconscious thoughts and actions of even the most-stubborn of witches.  This show will shock and surprise you and your cat!

---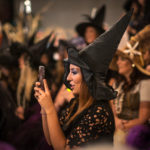 No Witch Hunt This Year/Yes Door Prizes!
No Witch Hunt~ EEK!  No Witch Hunt this year?  Relax, sisters, there will still be prizes for you to find; just not out there on the big, dusty farm.  You can thank us later, and remember, "If you can't stir with the big girls, stay away from the cauldron!"  

Door Prizes~ We witches won't quit until the bell tolls.  Before then, plenty of shrieks will be heard coming from the Farmhouse as you lucky gals learn "witch" fabulous prizes you'll fly home with!

DOOR PRIZES In order to encourage on-time arrival, the cut-off time to receive a ticket for entry to win the fabulous door prizes is TEN MINUTES after the event start time.  ONLY witches who have arrived by that time will receive a ticket.  We don't want you to be TOO late!  Door prizes include Culver's food tokens, Field of Screams passes, Halloween crafts, party planning books, gift certificates for local services, Mystery Escape Room admission packs, and more!  Our sponsors support the on-time arrival of all witches, plus the food will be fresh and hot for you.

If you are the ticket purchaser for others, please inform each of them about this important detail.  Thanks, and enjoy your time with us on our Witchy Weekends!

---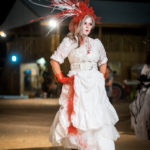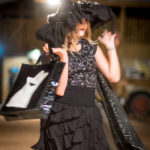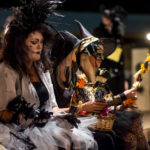 "Dressed to Kill" Fashion Show/Costume Contest
"Dressed to Kill" Fashion Show~ Get into the spirit of the evening by wearing your most-wacky, traditional, whimsical, elaborate, or magical costumes.  Our cast of professional witches will judge you ruthlessly! We've conjured prizes for the winners that will thrill you to the bone.  If your costume is over-the-top, you're sure to win.  Don't be afraid to show up in last year's fashion, sisters.  Anything goes, but remember, always match your pumps to your broom! You can try for one of these categories:
Classiest Witch

Scariest Witch

Funniest Witch

Best Witch Hat

Best Witch Costume

Celebrity Witch Look-alike

The costume fashion show is the highlight your ghoul-friends will be screaming to see!  It's wickedly fun to strut your stuff beneath loads of garish gaudiness!
---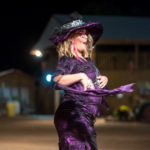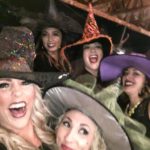 New This Year: Hexenbrut Witch Dance ~~~
Back Again: Witches Circle Dance
Hexenbrut Witch Dance~ If you haven't beheld the viral video of the German Hexenbrut Witch Dance, you need to jump on the InterWEB!  Last year, we created our own dance to our own song, and this year, we're joining the throngs of witches all over the world who perform this dance at festivals everywhere.  These moves will have you feeling like a witch in double-time!  The festivities really begin to brew when we push the benches back and fire up our brooms in the pavilion.  The Hexenbrut Witch Dance video tutorial is linked below for you to learn.  It's not a contest; everyone will dance at the same time.  "Come out, come out, wherever you are," and join us in this viral dance epidemic!
Learn the Peter Fox/Hexenbrut Dance HERE.  Instruction begins after a short introduction.
Dance along with the original viral video of the Peter Fox/Hexenbrut Dance HERE.
Learn the Peter Fox/Hexenbrut Dance in English HERE.
Witches Circle Dance~ Wick'a Dee Witch invites you to learn the Witches Circle Dance from last year.  Anyone who learns it can join in when the music starts.  And don't worry, "After you practice 3 or 4 thousand times, you'll get it!"   We've made one simple change to the dance from the video instructions; everyone stays facing inward for the entire dance, except when we are circling around.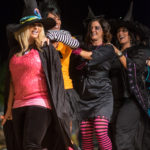 Dance Party
Dance Party~ Bust a move with the DJ!  Come out of the coffin and get your Halloween groove goin' when the DJ gets our party started in the pavilion!  The pulsing beat is coming to GET YOU on the dance floor!  It's the perfect way to end our night of fun, by dancing 'til we're dead!  Have your broom ready when the Hexenbrut Witch Dance and the Witches Circle Dance songs come on.

---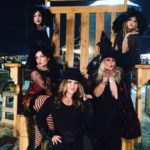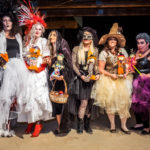 ~~~Come, get your WITCH ON~~~
It'll be great fun for all your witchy friends.  Leave the family in a NETflix trance and come fly with us for this spell-binding Witches Night Out.  Ladies 18 years and older encouraged.  Instead, bring your family members to Waffles & Witches, October 13 and 21.
Watch for tickets to go on sale.  

ONLINE TICKETS
WE ARE IN THE MOUNTAIN TIME ZONE.  IF YOU ARE COMING FROM OUT OF STATE, PLEASE PLAN ACCORDINGLY.  IF BAD WEATHER ARISES PLEASE CHECK OUR FACEBOOK PAGE FOR UPDATES OR CALL AHEAD.  ALL TIMES SUBJECT TO CHANGE.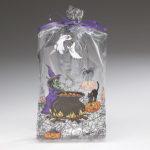 Witches Night Out Sponsors
Take a look at our generous sponsors and partners.  Be sure to thank them when you support their businesses!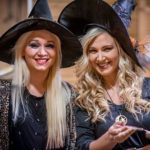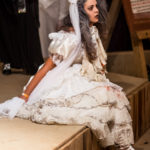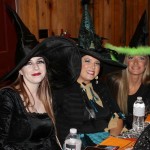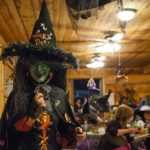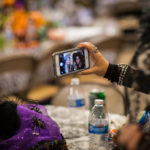 To view all 2012 and previous WNO photos, click 
HERE.  ////Under construction///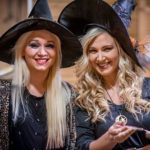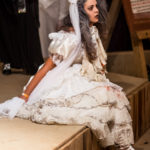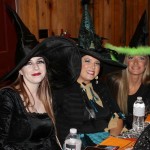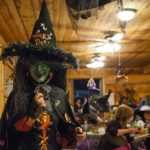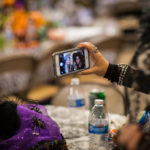 To view all 2013 WNO photos, click 
HERE.  
////Under construction///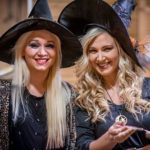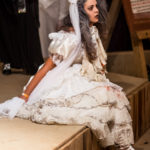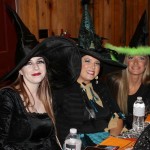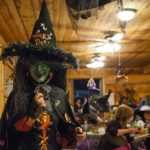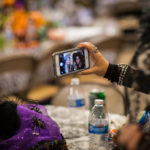 To view all 2014 WNO photos, click
HERE.  
////Under construction///
Can't decide? Watch this witch video....