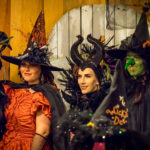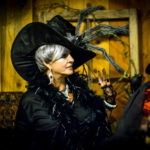 8th Annual Witches Night Out
Thursday, October 13 AND
Thursday, October 20, 2016
7 PM  Reservations Required
BUY TICKETS TO WITCHES NIGHT OUT
Witches love any excuse to get together and throw a hootenanny.  Grab all your best "ghoul-friends", let your wild hair down, and come spend a spook-tacular "Night on the Farm".   Your eyes will pop as you enter the dazzlingly decorated Farmhouse.  Enjoy live entertainment, great food, contests, and all the stuff we witches like!  Ladies, fire up your brooms and fly into Staheli Family Farm for a bewitching time!
(Vegas Witches, BEWARE, and don't say we didn't WARN YOU!!!  To be here on time, leave Vegas by 4, unless Broomhilda is driving; in that case, leave by 3.)
---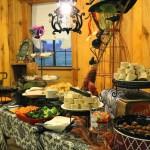 Ghoulish Goodies
Ghoulish Goodies~ Belly up to the buffet, Witches!  Our spread has something even Hagatha will love!  Choices include:

Half moons                    Mystery drink                    Bat wings

Severed fingers             Newts' tongues                 Melted witch dip

---
New This Year: Best Broom Contest
Best Broom Contest~ Broomsticks are welcome and encouraged.  (Please, no service brooms, haha!)  Let your powers loose when decorating your broom. The other witches will cast their spells/votes to bring forth the winning broomstick.  After the contest, you'll need your broom for the Witches Circle Dance.

---
Entertainment
Entertainment~ Back by popular, demanding witches, we welcome the Sanderson Sisters, with their own brand of HOCUS POCUS!  Try to bone up on your trivia from the movie.  "I smell children…."

---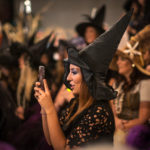 Witch Hunt
Witch Hunt~ Also returning, a hunt for points and prizes, using your technology, brains, and ingenuity.  It will be held in the Farmland this year with a few tricky twists to make it twice as witchy.  *Hint:  How well do you know the famous witches from history and media?

---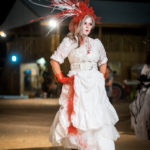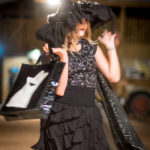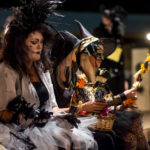 "Dressed to Kill" Fashion Show/Costume Contest
"Dressed to Kill" Fashion Show~ Wear your most wacky, traditional, whimsical, elaborate, or magical costumes.  Our cast of professional witches will judge you ruthlessly! We've conjured prizes for the winners that will thrill you to the bone.  If your costume is  over-the-top, you're sure to win.  If you're waaaay over-the-top, you'll win the "boobie prize".  HA!   Elvira, bring your tapeworm for good measure.  Don't be afraid to show up in last year's fashion, sisters.  Anything goes, but remember, always match your pumps to your broom! You can try for one of these categories:
Prettiest Witch

Ugliest Witch

Best Witch Hat

Best Witch Makeup

Celebrity Witch Look-alike

Boobie Prize Witch (Yup, we're serious this time, based on bustline measurement)

Best Over-All Witch Character (You don't have to wear over-alls, unless you're a lost scarecrow.)
---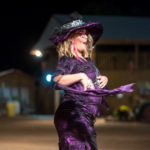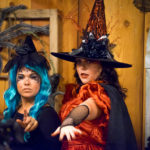 New This Year: Witches Circle Dance
Witches Circle Dance~ Chants and actions will have you feeling like a witch for sure!  The festivities really begin to brew when we push the benches back and fire up our brooms in the pavilion.  The Witches Circle Dance (video tutorial) will be sent via email after your ticket confirmation and posted on the home page of our website on October 4th with a password.  Contact wickadee@gmail.com for problems with the video.  The Witches Circle Dance will also be taught live at Witches Night Out.  It's Wick'a Dee-lightfully easy.  It's not a contest; everyone will dance at the same time, strutting their stuff in front of a lively Farm audience!  Don't be shy, Sabrina…

---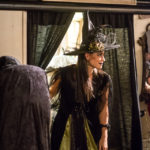 Photo Booth
Photo Booth~ All members of the Black Hat Society are invited to step inside the photo booth and sit for a spell.  And if you can't stir with the big girls, stay away from the cauldron.  Just a nice thought for you lovely witches!  (Minimal charge)

---
Door Prizes
Door Prizes~ We witches won't quit until the bell tolls at ten.  Before then, plenty of shrieks will be heard coming from the Farmhouse as you lucky gals learn "witch" fabulous prizes you'll fly home with!

---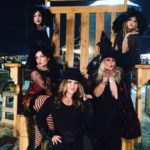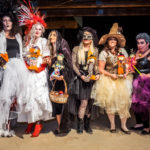 ~~~Come, get your WITCH ON~~~
It'll be great fun for all your witchy friends.  Leave the family in a NETflix trance and come fly with us for this spell-binding Witches Night Out.  Ladies 18 years and older encouraged.
WE ARE IN THE MOUNTAIN TIME ZONE.  IF YOU ARE COMING FROM OUT OF STATE, PLEASE PLAN ACCORDINGLY.  IF BAD WEATHER ARISES PLEASE CHECK OUR FACEBOOK PAGE FOR UPDATES OR CALL AHEAD.  ALL TIMES SUBJECT TO CHANGE.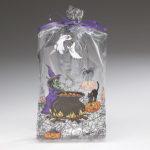 Witches Night Out Sponsors
Take a look at our generous sponsors.  Be sure to thank them when you support their businesses!
Can't decide? Watch this witch video....